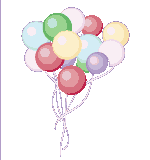 This page was last updated on: July 2, 2004

Bubbles brings magic, music, balloons and an assortment of props from around the world.
Bubbles range of talents include singing, juggling, magic, games and the ability to create animals, hats and sculptures out of balloons.
Bubbles is a real clown who can bring happiness and laughter to any occasion.
Bubbles can change his show to suit different age groups.
Call (01236) 768395
to book Bubbles.
Based in Airdrie
works throughout Scotland
Bubbles is also available for fun discos & karaoke.
Bubbles is also available for close-up magic.
Call today for more information.