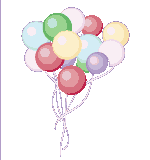 This page was last updated on: July 2, 2004

Bubbles the Clown would like to welcome you.
This site has been set up to tell you all you need to know about "Scotland's no. 1 singing clown".
Bubbles the Clown has been entertaining audiences for years. To find out more about the career click the Bubbles Bio section.
To find out more about the range of packages available click on the packages section.
If you want to buy Bubbles
latest cd head over to the songs section.
Call (01236) 768395
to book Bubbles.
Based in Airdrie
works throughout Scotland