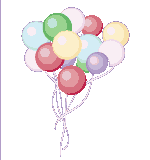 This page was last updated on: July 2, 2004

During his career as an entertainer Bubbles has had the opportunity to entertain and touch the lives of many children and adults with his mix of happiness and laughter.
Bubbles has performed at hundreds of parties, fairs, shopping centres and events all over the world.
Bubbles has also appeared on TV many times during his career and most recently appeared on
"My Barmy Aunt Boomerang" on Children's BBC.
Bubbles however is perhaps best known for his clown shows at Clyde Valley Fun Park (formerly Old Macdonalds Farm). Bubbles has been the resident entertainer at the park for 5 years.
Call (01236) 768395
to book Bubbles.
Based in Airdrie
works thoughout Scotland
Meet one of the stars of the show